Second Trimester Abortion
Second Trimester Abortion
In Clinic - Second Trimester Abortion
An In-Clinic Abortion in second trimester, also called Dilatation and Evacuation (D&E) is performed for pregnancies that are between 13-24 weeks from conception. When you call for an appointment an experienced staff member will ask you for the first day of your last normal menstrual period. We can use this date to estimate the stage of your pregnancy. When you arrive at the facility a sonogram will be performed to get an exact measurement of the pregnancy to determine gestational age.
After a certain point in the pregnancy, a second trimester abortion must take place on two consecutive days. On the first day, cervical dilators will be inserted into the cervix to gently dilate the cervix overnight. You may also receive an injection into the uterus that will achieve pre-operative fetal demise and make it easier and safer to remove the pregnancy following day. On the first day, after receiving confirmation of a positive pregnancy test by submitting samples of blood and urine, you will receive an ultrasound to determine how long you have been pregnant.
After the length of your pregnancy has been determined, you will complete the first day procedure. In the operating room, you will be attended to by a team of warm, friendly healthcare professionals. Throughout your procedure our anesthesia staff will monitor your vital signs to ensure maximum safety. Our anesthesia staff will insert an intravenous catheter into a vein in your arm or hand and an IV sedation will be administered.
leading providers of high-quality abortion care since 1971
a second trimester abortion must take place on two consecutive days.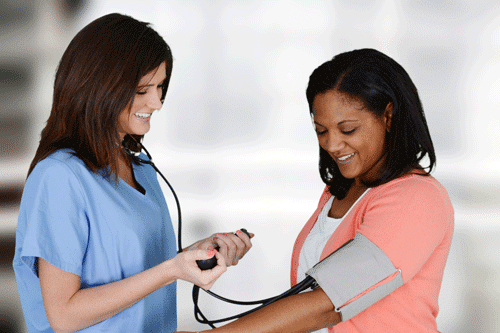 Enter the first day of your last period to see your options
Please use this calculator before selecting your options from the appointment form below. Note: Seeing a trained medical professional is the only way to accurately determine the length of your pregnancy and what options are available.
Your Health Is Everything
We Guarantee Passion, Commitment And Quality with a Patient-Friendly Approach
patient-friendly, highly skilled and responsive professionals
patient-centered environment designed to reduce anxiety and make our patients comfortable as they go though their abortion procedure
Parkmed NYC's board-certified team of doctors and medical professionals, assisted by highly qualified and sensitive support staff, truly believe that the patient comes first. Every member of our team understands the importance of remaining sensitive and responsive to the concerns of our patients.
At Parkmed NYC, one of the most renowned private abortion clinics in NYC, you will receive the highest quality care (NYC abortion) for all of your reproductive health needs. Our highly skilled staff is trained to assist you through a safe, comfortable visit. All of our anesthesia staff are certified in Advanced Cardiac Life Support. All of our support staff maintains certification in Basic Life Support and follows strict infection control practices.